So what do we mean by 'Traditional kitchens'
Traditional kitchen designs have remained consistently popular for good reason.
Comforting and warm, nothing feels like home quite like a traditional kitchen.
A Framed Timber kitchen is the epitome of traditional design, thanks to the wooden cabinetry available in either painted matt, or as exposed and treated timber.
If you are looking for a country style traditional kitchen then we recommend painted wooden cabinets in cream or green with wooden worktops for that classic look.
Regarding appliances, range cookers are a great traditional choice to have in the kitchen.
Realted content:
Popular Traditional Looks
Rustic white kitchen with island unit, grey marble tiles and wooden worktops – This country kitchen celebrates mixed materials with touches of wood, marble and brass. Wooden worktops and brass fixtures and fittings add warmth to the white colour scheme.
White kitchen with built-in window seat fitted into bay window – This beautiful white kitchen space features a charming breakout area fitted into the bay window. The bench seat is thoughtfully painted in the same colour as the kitchen units to connect the two areas.
Traditional country kitchen with sage green units, classic AGA and decorative rug – Classic Shaker-style kitchen units have been given a refreshing update with a lick of light sage green paint. The room has added style value thanks to a generous decorative rug, adding warmth and colour to the floor tiles.
Neutral kitchen with glass fronted cabinets – Bespoke Shaker-style cabinetry creates a sleek look with a traditional style. Glass fronted cabinets break up the solid wood, lightening the space. They also provide a great spot for showing off favourite pieces. Alternatively, display clear glassware for an unobtrusive finish.
Modern Kitchen VS Traditional Kitchen
Modern kitchens are some of the most beautiful, clean and sleek kitchens ever. These kitchens are very much the opposite of a traditional kitchen, due to the fact that everything has its own place. Modern kitchens often have smart appliances or handless appliances, which helps to contribute to the tidy look.
Traditional Kitchen Design
Traditional kitchens are all about the small details and individual character.
This focus on character means using more natural materials like wood and very few man made ones.
The wood is often painted with muted colours to appear aged and welcoming.
You will also find it common for traditional kitchen floors to be made from natural materials too. Most commonly stained hardwood and tile.
One of the core fundamentals of a traditional kitchen is the raised panel cabinets which adds dimension and detail to the kitchen.
Crown molding can also be applied throughout the kitchen to add another layer of depth and match the overall style of the cabinets.
Use of ornaments and decorations are very common in traditional kitchens, and help give it that "a family lives here" feeling.
The Benefits of a Traditional Kitchen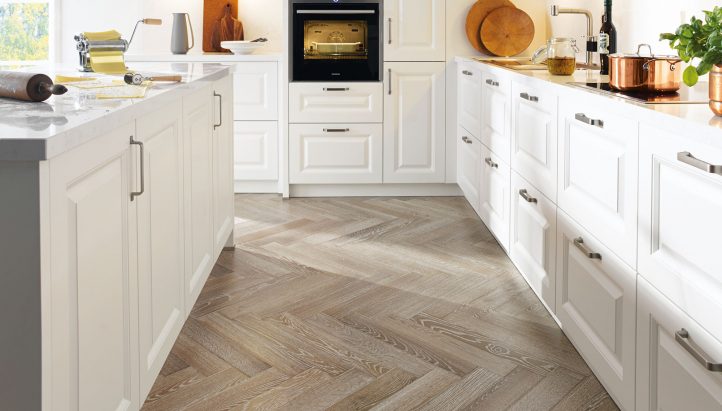 As the name suggests traditional kitchens have been around for a long time, and they're not going anywhere any time soon.
People are often drawn to these kitchens because of the class they represent.
But it's not just that…
They aren't going out of fashion
Kitchen design trends come and go, but traditional kitchens will always remain firmly planted as a popular kitchen style.
They're warm and welcoming
Everything about a traditional kitchen is warm and welcoming. From the natural materials used throughout to the soft, muted colour palettes – you can guarantee that your friends and family will feel comfortable in a traditional kitchen.
Windsor Bespoke Timber Manufacturing
If you are looking to have a traditional kitchen manufactured here in Fife then contact us today.